News
Bull Run Observer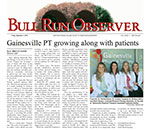 Since opening Gainsville Physical Therapy in the fall of 2013, Dr. Cristina Trypanis has developed a sense of family with those serving with her and their patients. It has continued to grow by adding therapists and assistants, providing state-of-the-art treatments, increasing it's patient base and most recently pro-curing added space and treatment accouterments.

Read More
---
Running Clinic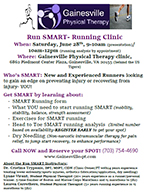 Run SMART- Running Clinic
When: Saturday,June 28th, 9-10am (presentation)/10am-12pm (running analysis by appointment)
Where: Gainesville Physical Therapy clinic, 6862 Piedmont Center Plaza, Gainesville, VA 20155 (behind the US Tigers).
The 1st ten to RSVP and bring the flyer to the clinic: Receive 10% off at our local running store (shoes/orthotics). 703-754-4690 .

Read More
---
Bull Run Observer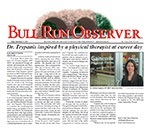 I'm back. We're open. I'm here," Dr. Cristina Trypanis, DPT MSPT has announced through her website, advertisements and fliers. In fact, Gainesville welcomed a buzz-saw of positive energy and enthusiasm when Trypanis opened her doors at 6862 Piedmont Center Plaza to serve patients on Nov. 24.

Read More